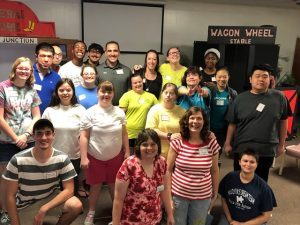 My name is Cathleen and I am a 14-year-old 8th grader. I like to read and rock climb, do archery, ice skate and much more. I heard about Camp Banyan from my art teacher, Karen Baker. I told her about needing volunteer hours and someplace to volunteer. She recommended that I volunteer at Camp Banyan, so I came to Spring Break Camp.
I was nervous at first because it was my first official volunteering experience. I didn't know anyone, but when I arrived, everyone acted like I was part of the camp already. It made me feel very welcomed and after that I wasn't afraid to open up and go around talking to campers. I liked how we started off with something simple like throwing bean bags into a square and getting to know each other. After introductions, we did some fun activities including Role Play where we acted out scenarios of what you would do if you had a costumer acting a certain way—usually misbehaving. The other campers were very expressive and really into their act. I was surprised as I'm pretty shy and don't really like attention, but it was cool watching everyone. Then, we played some Russian games in the gym with Ms. Lynette Kuliyeva. Each team was competitive and trying to win and at the same time showed sportsmanship and had fun.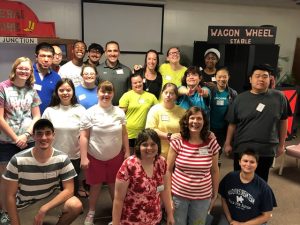 At snack time, it was great to hang out with the campers and talk about their interests. In my opinion, food can really bring people together. Then Deputy Sheriff Ron Barbetto came in to talk about his job with Pinellas County. It was very informational and we all learned a lot. Everyone was very excited when he talked about all the celebrities he met at the airport!
After lunch break, we all pitched in together to masking tape silhouettes on a large canvas so that later we could all shoot water guns of paint on it.
Everybody emptied their paint on it outdoors and there were so many bright and sparkly colors laid out on the canvas, it looked magical!
The next morning, I was feeling more confident and ready to volunteer. Ms. Kim Siewert came in to talk about her experience with medical flights. I have some interest in the medical field so it was very interesting to me, and the other campers were intrigued as well. We also had a self-defense class and it was awesome! We learned all these new tricks and tips on how to protect ourselves from attackers.
Then came the field trip to the Dali Virtual Experience in Clearwater. I got to make geo-doodles and color my design and on the Selfie Wall
while I waited for my turn to put on the VR goggles and headphones. It was one of Dali's paintings in 3D on the monitor and you could travel deeper and deeper into the scene. It was an incredible experience and very imaginary. We ate lunch at the Clear Sky Café across the street. Each person ordered his or her own food and had a fun time in the restaurant while we waited for the food to come.
When we got back to Camp, the Life Skill lesson let us design our own apartments and decide where to put furniture and our possessions. Everyone did a really good job of creating beautiful and innovative rooms. I love doing layouts of houses so it was a really cool activity.
After just two wonderful days, I was really glad that I volunteered. I got to meet a lot of new awesome people and experience a lot of interesting activities. One of the things I learned was how to be a good volunteer. A good leader does not actually do everything but rather invites others to get involved so they learn know how. This way everyone is helping and learning from each other. I think you also have to encourage others to talk and participate. It's important to make them feel welcomed and part of the group just like everyone did to me when I first came. I am really glad that I got to learn all these new skills and help out. I really enjoyed it and I hope I can come back and experience it again!